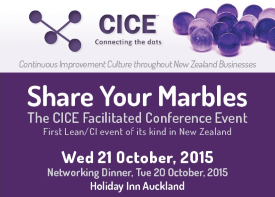 Anyone was welcome who wanted to learn and share. And it's humbling how much people were willing to.
I said at the beginning of the day that once people got going it would be difficult to stop them and I was proved correct. Right from the moment people arrived at 8am for coffee (about left) through to the final drinks (last person left at 8pm!) people were talking and connecting.
And despite the fact that the conference was designed for maximum connections (no one was allowed to sit with who they had come with!) at the end of the day attendees were still meeting new people!
The whole point was the maximum sharing, learning and engagement possible. We hit 60 people from over 40 different organisations nationwide and from all different industries…..which for the first lean/CI conference of its kind in NZ was fantastic. It was a networking/facilitated event, certainly not your traditional fare.
The marbles completely went astray. Sometimes the room was complete structured chaos, but we had fun. We had a lean definition winner, we had some real gems of ideas and suggestions and some real and honest stories mixed in. The openness of people to share and bare all was appreciated. That's because we all know we're facing exactly the same challenges. We felt their pain!
It couldn't have happened though without the calibre of people there. They made it what it was. There were no passengers even the fantastic presenters and facilitators were 100% in the thick of things. That was the whole idea. Smart bunch of people, maximum their smartness!
People loved:
·         The lean challenge segment, 8 problems, 56 different ideas,
·         The opportunity to really get to know people in depth,
·         The speed networking grew on people, particularly with Brenton's adaptability,
·         The site visits were a perfect way to start and set the scene, and
·         The CICE dinner was relaxed and again set a good tone for interactions.
And this is what they said……..
·         Let me say it was a fabulous day, well organised with a good mix of company stories and learning.
·         The event was a real success. Everyone was so uplifted and enthusiastic at the end.
·         I have met some great people and I thank you for enabling that!
·         Thanks for a great day. A great day had by all!!
·         Great to talk to a whole lot of like-minded people when it comes to CI.
·         CONGRATULATIONS AND WELL DONE. [Thanks Anna!]
·         It was a really good conference……well done to CICE. Very professional!
·         Congratulations for putting on an EXCELLENT conference!! It worked well in so many ways……
One of the things that impressed people the most was that in true lean/CI fashion we improved as we went along. Just before lunch Laura asked people how we were tracking, and so things were adapted in the afternoon to suit. We practised what we were preaching!
And that is what CICE is about. It taking everything you're learning a step further. Making, enabling, and facilitating connections so you can learn, understand and create your own journey. We (the wider CICE team) have just put this together – see what you think). CICE – What is it!?
The amount of activity is spring boarding, very much complementary to what everyone is doing. I love my 'job'!
It is also thanks to people like Ian and many others who are right in behind the concept making this happen nationwide. This is By Us, For Us. Any other way is anti CI!
Want to know more or sign up for next year!? Drop me a line or call. Trish. Trish@leankiwis.org.nz 021 449 229 and www.cice.co.nz Trish Wilson Professional Catalyst – CICE Network. New Zealand